Information for schools
From September 2024, the initial teacher training (ITT) landscape will be changing. Get up to speed with what this means for schools.
From September 2024, in response to the ITT Market Review, there will be certain changes to how initial teacher training works. As a teaching school hub, the Julian TSH is required to partner with an accredited ITT provider (we've partnered with two) and play a full role in delivering ITT, for example by hosting intensive placements and lead mentors, and by supporting accredited providers with the design and delivery of the training and mentor curriculums.
How can schools get involved?
By supporting ITT, you have the chance to 'grow your own': by offering placements to trainee teachers, your school has the opportunity to support the development of your own workforce - check out our case study, Claudia, to find out how this can work.
You might already know your next trainee: our partner NTTC supports teaching apprenticeships which are ideal for promising Teaching Assistants (TAs) or Higher Level Teaching Assistants (HLTAs).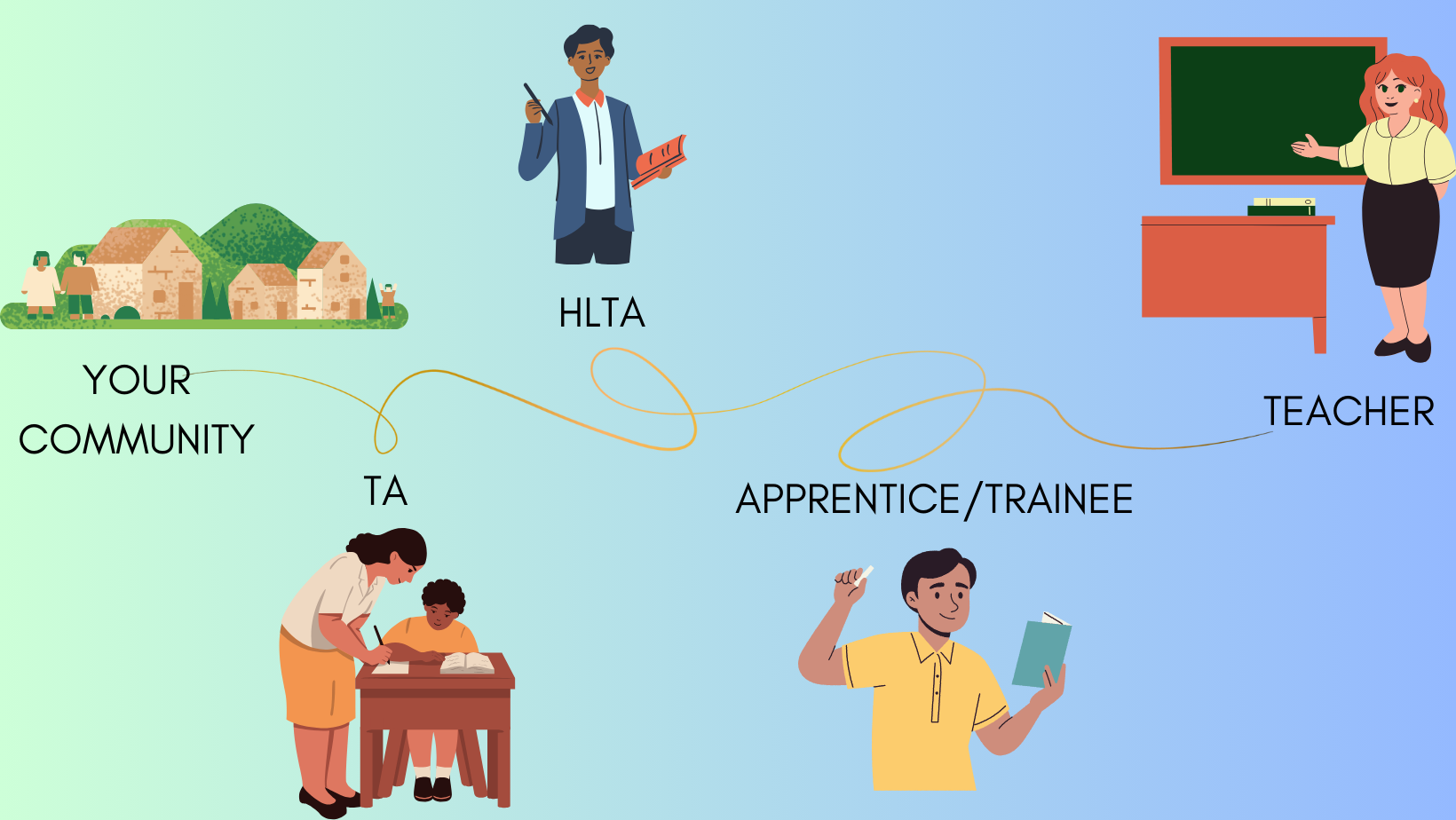 Immediate advantages of hosting an ITT trainee include:
Trainees are supernumerary: if you host a school-centred initial teacher training (SCITT) trainee, you have an extra pair of hands, straight away from September.
Trainees work alongside teachers, team teaching and working with individuals or groups of pupils while they develop their practice.
As trainees' confidence and ability grow, they can quickly progress to lead whole class teaching.
Trainees have the potential to rapidly become valued members of the school team.
Longer term advantages include:
The opportunity to work with talented trainee teachers who may be a strong fit for future teaching vacancies in your school.
Professional development for teaching staff who provide mentoring and support for trainee teachers.
Access to the latest research, practice, and innovation on teaching and support for children and young people.
Access to support from ITT providers and their wider networks, including teaching school hubs.
Why should I host a trainee now?
The Core Content Framework (CCF) - the basis of all ITT curricula - has a clear and coherent evidence base and, in partnership with the Early Career Framework (ECF), establishes an entitlement to a three year structured package of support for future generations of teachers.
The recent ITT provider reaccreditation process (undertaken in response to the market review) has ensured that all accredited providers have designed new evidence-informed curricula.
Revised mentor expectations result in significantly upskilled existing school staff.
Support to build mentor pathways into your career mapping.
What's the benefit for mentors?
Anecdotal evidence tells us that mentoring a trainee in school gives experienced teachers a fresh look at their own practice, which leads to an 'upping of their game' in the classroom. Evaluating one's own practice in order to explain it to a novice can be transformative - and the opportunity to share knowledge and expertise with the next generation of teachers can improve morale and self-worth, and in turn teacher retention. Access to 20 hours of CPD for new mentors, and six hours for returning mentors, which is focused on the most up to date evidence of what works in the classroom, means that your school's involvement in ITT becomes a vehicle for high quality CPD for your staff at no cost to the school.
What if we can't spare the classroom time for a mentor? Is there another way to get involved?
Yes!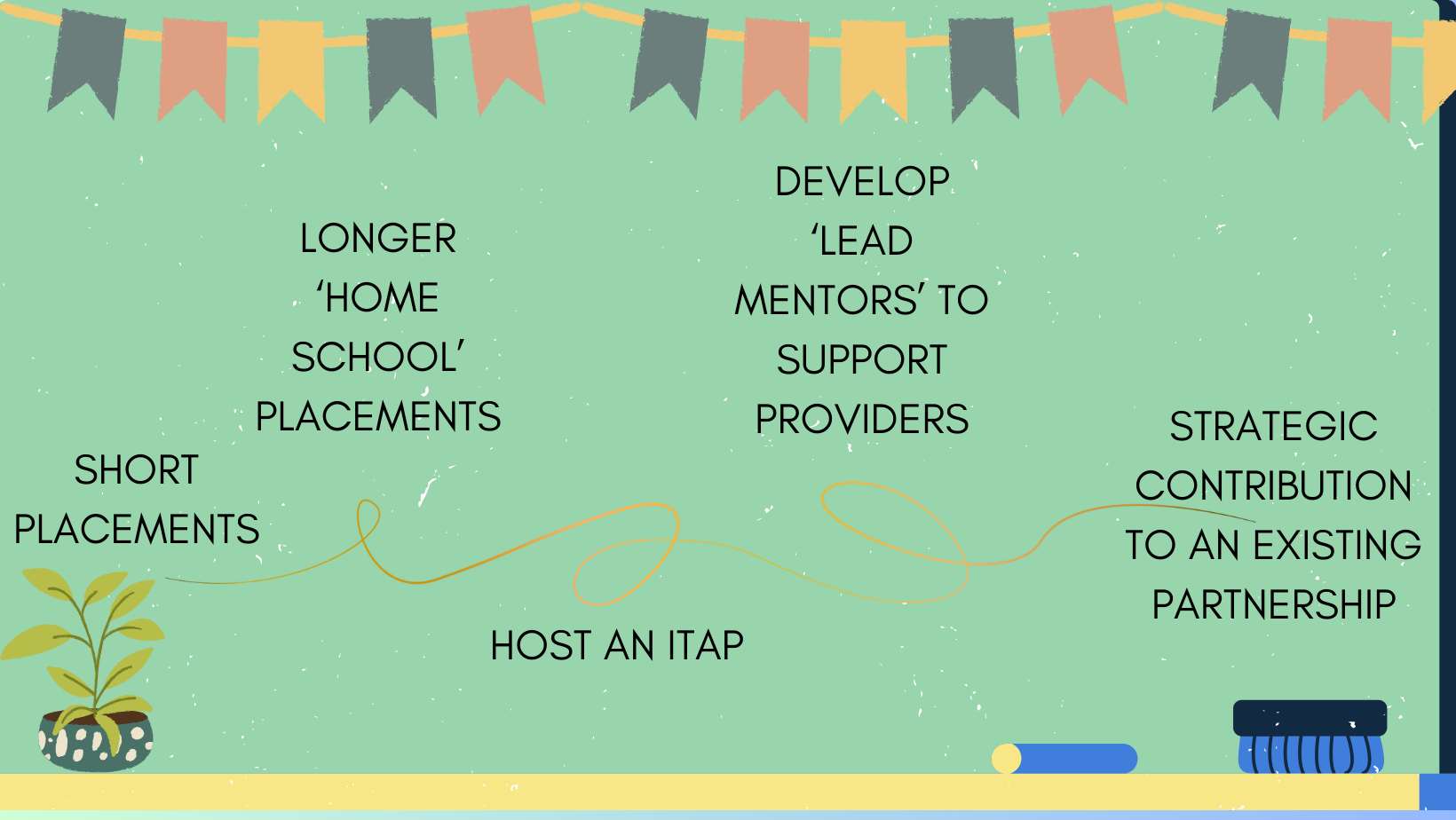 What's an ITaP?
Intensive training and practice (ITaP) will be a key element of all initial teacher training in England from 2024. Intensive training and practice focuses on specific pivotal areas, for example setting up behaviour routines, subject-specific focus, or effective interventions for pupils with special educational needs and disabilities.
ITT providers will design and deliver the ITaP, but may ask your school to host part or all of it - this is a great opportunity to show off your school to colleagues who will be job-hunting in the near future, and to make useful links with trainees and providers. Consider what your school is expert in: could you use this expertise to support an ITaP? If you'd like to be involved, get in touch.
How can I find out more?
The Julian TSH has written to all schools in our Hub area: as part of our strategic ITT role, we are required to collect data on school engagement in ITT and support ITT providers with delivering elements of the new ITT criteria, such as ITaP placements. The data shared by you on your ITT engagement will be used by Julian Teaching School Hub to help inform the DfE and allow them a greater understanding of the ITT landscape and be more aware of our local context.
If you'd like more information on how to get involved, you can contact us. We'll also be updating these pages frequently.